Here is my current desktop.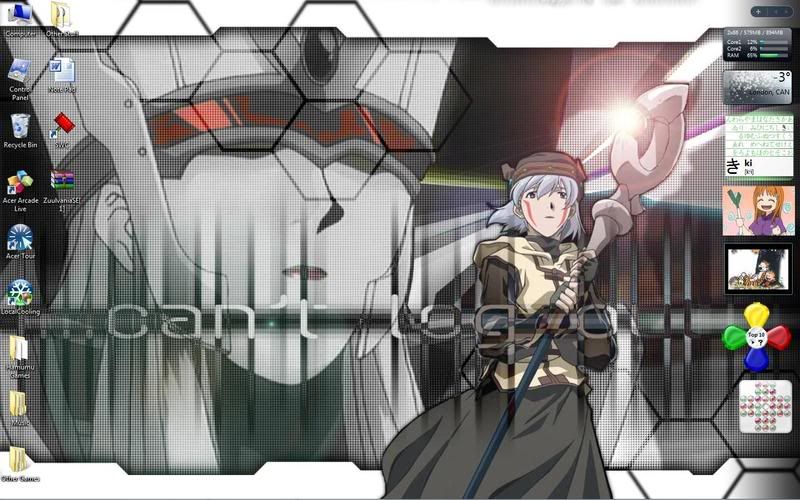 My wallpaper is from the Anime series .hack//SIGN. (It's my favourite series, though .hack//Roots is also pretty good...) My desktop is pretty empty, except for the few files and gadgets. Here are what the gadgets on the desktop do, if anyone cares:
1. Info Bar: Details memory-related info about my computer.
2. The current weather. Yes, I could look outside, but now I've found a lazier way to find out the weather!
3. An entire alphabet of Japanese characters. There's more buttons for the other symbols. When you click on them, their meaning and symbol come up, and the pronunciation is heard.
4. Loituma Girl. (Actually Orihime from the Anime series Bleach) When you click on it, she start twirling a leek, and speaks gibberish. A good pick-me-up on a bad day. (The song she's singing is actually a Finnish song, but it's made so it comes out strange)
5. Perhaps one of my favourite gadgets. It's Calvin and Hobbes! Every time I click on it, a random comic comes up. Also a good gadget for a bad day, or even to make a good day better!
6. A memory game that gives out sounds when you play it. A fun game to play once in a while.
7. A marble game. Also a fun way to pass time when I'm bored.
I also occasionally switch one of my current gadgets (I'm at the maximum amount now) to a Shiny Firefox Clock, a Sudoku Puzzle, or another gadget I like.