Hi. Like LRT did, I am selling 80x300-500 Pixel Photos that contain whatever text you want it to show.
To get one, follow these steps:
1. Choose a Background
Singular-colored background - 0 yb
Two-colored striped background - 1 yb
Two-colored polka dotted background - 1 yb
Specific photo that you give me - 2 yb
Other - 1 yb - 10 yb
2. Choose a font (For your text)
No text - 0 yb
Normal Font (You say which one) - 1 yb
WordArt - 2 yb
WordArt Fonts: (Number Labeled yay)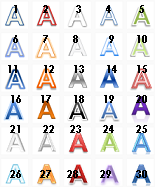 3. Choose some text
No text - 0 yb
A Username - 1 yb
Some Text - 1 yb
Some Text containing odd symbols that are not on the QWERTY keyboard - 5 yb
-----
REFUNDS: Yes, full refunds
PAYMENT: I give you it, Then you give me Yerfbucks
TWOFORONE: If you buy 2 of these sig photos at THE SAME TIME, you get them for the price of one +1 yerfbuck
-----
Now guys THESE ARE PRETTY CHEAP!
The highest you will ever get one for is 17 ybs. cheap. lowest? 0 ybs.
EDIT: There's two example siggys! Look at my sig below, and look at this one (which jamul can use if he is nice)

Nah I
'm pretty sure
know that he's never gonna use that. But still there's a sample.
So yeah, Please buy one!