---
The "big present" I got this Christmas (I got lots of great stuff, by the way, mostly DVDs) was something perhaps a bit embarrassing for an elderly gent such as myself, but I announce it anyway! It was a Lego train set and a bunch of extra tracks for it, and a train station.
I was supposed to also get Rock Band as my other really big present, but it is unfindable for PS2 these days (except for the version that comes with no instruments, and that doesn't do me much good!). So I spent the relative money involved, and maybe a bit of Christmas money, on
more
Lego trains! Those are awaiting me in my PO box at this very moment. Too bad it's too late to pick them up.
I've got it all set up in our 'retreat' (a small room that has no real purpose, off of our bedroom). I had tons of legos in my youth, so I am using those to build stuff - houses, stores, cars, etc. It's going to be a whole little tiny wonderland. I've taken pictures of it so far, and I'll get more as it builds up. I want to capture the process as the city slowly expands. I want to get set up to build a nifty timelapse video of it going up.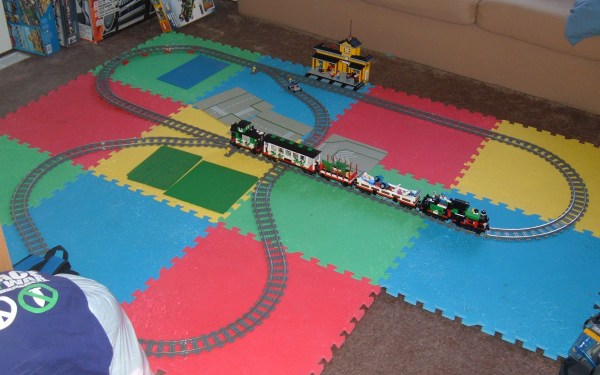 That's the first shot! It's actually got a building added on to that now, but I haven't taken a picture yet. As you can see, it is constructed on delightful foam jigsaw pieces. We got those years ago, and they are a nice surface for exercising, or as we see here, legos. My second train will add a bunch more tracks, so I'll have to find a way to work those in. Wish I had more space! Also, you can see assorted ground plates scattered around. I just dug them out for future use.
See, I've always wanted lego trains, since I was maybe 12 and they were only available in Europe. I always thought train sets were really cool, something about all the miniature stuff. A Lego train set is ten times as good, because you can rearrange it freely and don't need all kinds of expensive paint and bits from the hobby shop. On top of that life-long interest, I also wanted something simple, creative, yet brainless, so I could just zone out when I am totally tired of work for the day, but my wife still isn't home to entertain me. So this is my new hobby! I'm pretty excited about it, however dorky you want to call me. It really fills a specific need I've had that to date has left me sitting there browsing around the web for hours at a time, not actually doing anything of interest, and ruining my eyes and spine.
I don't expect to be cranking out the city rapidly, but it's nice to have it sitting around whenever I feel like messing with it.