| | |
| --- | --- |
| Hamchat | 10:42 PM -- Wed June 17, 2009 |
---
Like I said yesterday, I am sick of the chat kicking people out! I think one of the major causes of the demise of our chat is that people can't lurk in it for long without being unceremoniously dumped out. Incidentally, it's not supposed to
do
that, but their tech support could offer no help that fixed it. But that's okay, because
Hamchat
fixes that and a lot more!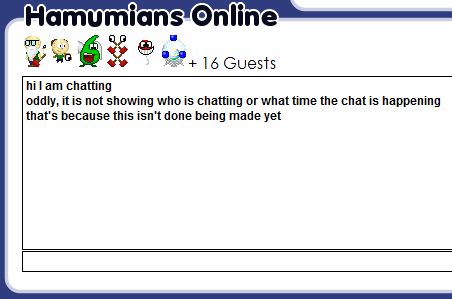 Hamchat is the glue that holds the entire new site together. It's a small chat window, which lives at the bottom of
every page of the site
! You don't log into it, you're always in it if you're logged on. Guests can see it, but not chat themselves. So first off, there's chat - a permanently functioning chatroom that won't kick you out no matter how lazy you are. Second off, it's always there - wanna chat, no matter where you are? Scroll down! Thirdly, everybody's in it, so there's never a shortage of chatters (well, maybe late at night there is).
Fourthistically, and this is where it becomes glue, it's not just chat! The Hamchat is like the in-game chat in your favorite online game (okay, I'm thinking of WoW). When your guildie gets an achievement, the WoW chat says "[Zandero] has achieved [The Golden Amazingness]!". Guess what happens at Hamumu when someone earns a trophy? Trophies are just part of that, though. There will be many other events chronicled going on. New member signups, maybe posts you've chosen to subscribe to (just thought of that, how intriguing! Maybe tough to code), webgame-related things, and things you don't know about yet. Hamumu Clubhouse
is
an MMO.