| | |
| --- | --- |
| HAM48! | 04:20 PM -- Sat April 10, 2010 |
---
Life is still crazier than craziness. I have to say, I don't think there will be a BTD this month. I'd like to do one (in theory, that is - I am not filled with the desire to do the actual making of one... seems like lots of work when my ears are still stuffed full of junk), but there's just too much I need to get done that will actually lead to much-needed money. And to that end, this weekend is officially a HAM48! I'm pretending there's a 48-hour contest this weekend (with no restrictions on starting code...) with the theme "robots and animals". Feel free to join in!
So far I have this dilemma: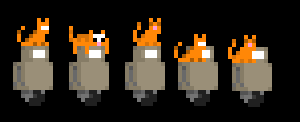 How should the kitty sit on the robot's head? As you can see, I have 3 different kitty ideas, and two of them could either sit on the shoulder or the head. What do you think? Kitty #1 looks like a robot himself (no room to give him pupils. Maybe white was the wrong choice? #3 has a different concept). I think I might like #2 best due to the presence of actual personality and stupidness.
In case you hadn't heard, in Robot Wants Puppy (my game hopefully being created this weekend), the kitty you already got sits on your head (or shoulder), and you power it up as you adventure. Kinda makes you wonder how busy episode 3 is going to get.