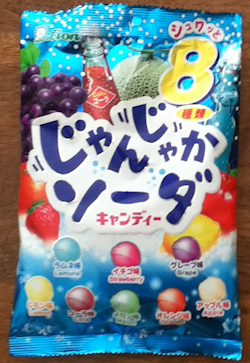 Noisy Lion Soda Candy
8/10 YUMS
I actually bought this candy a couple weeks ago to soothe my soul when my wife was away on vacation for two weeks, but it counts! This is a hard candy, little round balls of sugar that you suck on, much like a stick-less lollipop. It comes in Lamune (AKA Ramune, "7-Up Flavor"), Strawberry, Grape, Lemon, Cola, Melon, Orange, and Apple flavors, and as you can see by the packaging, the bag contains an assortment of them all. The reason they're called "Noisy Lion" is that theoretically they have a fizz element like Pop Rocks, but it's very very mild and hardly noticeable. It's more of a carbonated flavor than actual effect. But it's a good flavor.

And they are delicious! All the different fruit flavors are really good, and I'm a sucker for ramune flavor. Cola flavor, I can do without, but even that is not bad here. So while these aren't going to blow your mind - they're just little fruit (and cola) flavored suckers - they are a nice little treat. And the official Japanese melon flavor is always great. They also do really good (strong) apple flavor, and grape. The strawberry flavor is not as good as American candies use. It has a plasticky artificial taste, but even that isn't bad, despite how I just made it sound like sucking on asbestos. You get nearly these same flavors in every Japanese candy, so you sort of learn a candy dialect - this is what "strawberry" is in Japanese, or "melon". Japanese candy flavors are usually stronger than American flavors, and quite nice for the most part.

Most of the candies I bought give you a pretty darn small amount of food for your bucks, so I appreciate that Noisy Lion is actually quite a lot of little guys in that bag. If you look at the headline image up above, you can see Noisy Lion in the upper left - it's a mighty large bag compared to almost everything else!

I rate Noisy Lion 8/10 Yums, and I recommend you consume it.