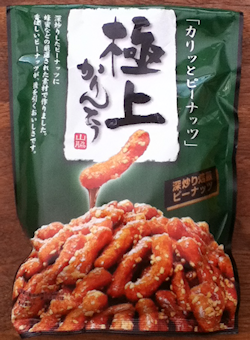 Gokujo Karinto Peanuts (AKA Fried Cookie)
8/10 YUMS
Just a note: many of these packages are entirely in Japanese without any helpful hints aside from a little label the government forced them to slap on it when importing. I can't read a single character of Japanese, so I am entirely at the mercy of these labels in such cases. This one declares that these are called simply "Fried Cookie", but under that it suggests Gokujo Karinto Peanuts, which Google Translate doesn't handle well. A couple well-placed spaces got it to suggest "Ts bran pair with your extermination Karin", which I think is a fair description of this snack food.

So what is the bran pair? Well, it's basically the size, shape, and almost the consistency of Cheetos, but instead of cheese, it's infused with gallons of honey! And it's not made of corn like Cheetos are, it's wheat. And it has peanut bits stuck onto it. It's quite delicious, actually. They're very airy and crunchy, much like Cheetos, but all the honey and oil soaked into them (they are definitely fried!) also gives them a sticky, chewy layer. So they are crunchy, chewy, sticky, and very peanutty - there's a strong peanut taste. Too strong, I think. Peanuts are very distinctive. But despite the over-peanuttiness, they're really enjoyable, with a nice natural sweetness from the honey (even though corn syrup is higher on the ingredient list than honey...).

It's another recommendation from me. Eat Fried Cookie, or Karin extermination bran, whatever you prefer to call it. I rate it 8/10 Yums.